Recently, I spent a few days in Kennebunk and Kennebunkport, Maine, and I made an effort to visit a few of the newer places in the area, those with updates, and a few favorites.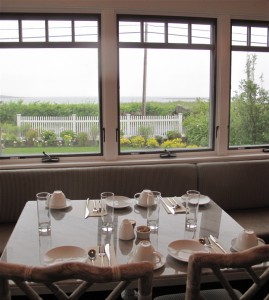 The Tides Beach Club: Located in the completely renovated and elegantly updated former Tides Inn by the Sea on Kennebunkport's Goose Rocks Beach, the Tides Beach Club restaurant comprises a chic and sophisticated lounge with small dining room in the glassed-in porch, with big views. The chef is Bryan Dame, previously with the Inn at Ocean's Edge, in Lincolnville.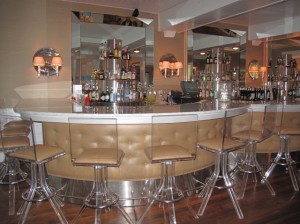 The menu is rooted in fresh and local (no surprise there, what self-respecting Maine restaurant isn't these days). I began with the "crispy fish," Chef Dame's take on a classic fisherman's platter, with tasting portions of fried calamari, Maine shrimp, clam fritters, horseradish, and potato. Definitely a keepah. I also loved the "cod chowder," not a soup, but an entrée comprising fresh cod and cured cod, bacon, radish, and creme fraiche ($27). Truth is, I could have made a light meal off the appetizers alone, especially paired with the bread. Afterward, tea on the porch. Perfect! The restaurant serves lunch and dinner.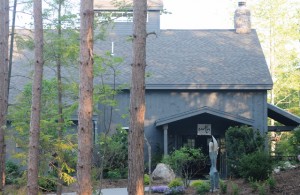 Earth: Located in The Tides Beach Club's tony sister property, Hidden Pond, Earth is the creation of Boston's James Beard award-winning chef Ken Oringer. The setting is haute rustic, with both indoor and outdoor seating and a menu that emphasizes farm-to-fork cuisine; much of the produce grown on the property. Entrées range from a Cold Spring Farm burger with aged cheddar, fries, condiments, and pickles ($18) to Oringer's signature seafood paella with herbs and garden peppers ($35) to wood oven-roasted whole lobster with green curry butter and grilled lemon  ($45).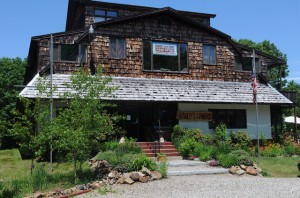 Brandy's on the Rocks: Also in Goose Rocks, but out on Route 9, Brandy's is a low-key, local favorite (co-owner Brandy Hynes also owns the equally popular Wayfarer in Cape Porpoise). The unassuming building has obviously been re-purposed from an earlier life as—what?—maybe a hotel? It's large and a bit homely, but it's been gussied up with gardens out front and with gingham curtains inside. Brandy's excels at preparing homestyle Maine favorites, such as lobster rolls and fried fish, but also does a mighty fine job with prime rib. Expect big portions, friendly service, wallet-friendly prices. There's entertainment Wednesday through Sunday nights. And don't skip the fries. UPDATE: Closed
Pedros Mexican Restaurant: I'd heard mixed reviews on this new restaurant in Kennebunk's Lower Village, and after dining there, I understand why. I snagged a table on the deck and ordered the small plate of tacos (2 for $8), which allowed a choice of two of six tacos (a large plate came with rice and refried beans for $12). I opted for the mahi-mahi with lime-scented cabbage, salsa fresca, and sliced avacado and the carnitas with chipotle-braised pork, cheddar, lettuce, onions, cilantro, and queso fresco. Both were all heat with little flavor. If you're not that familiar with Mexican (Cal-Mex, in this case) or are going for drinks and apps, you'll likely  love it, but if you're craving authentic flavor, this doesn't do it. (FYI: The folks at tables around me who were raving had also asked questions such as "What's a burrito?")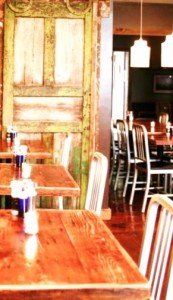 Old Vines Wine Bar & Tapas Restaurant: I fell in love with this spot when I visited last winter. This time, I found it even better, with an outside patio for evening drinks and dining, along with the inside dining area and bar. It's just a few doors away from Pedros, on Route 9 in Lower Village. Also new this year is a full bar. The summer white gazpacho (chilled almond and garlic soup) was divine (if you love garlic), especially accompanied by grilled bread. Owner Mike Farrell knows his wines, and allowed me to choose a bottle, then divided the price to reflect a per glass rate. Nice! The bar also crates its own juices and mixers, including bitters and infused syrups, such as ginger habenero cane and lemon-flamed orange twist. There's a house-made limoncello, too.
Cape Porpoise Kitchen Located at the Route 9 intersection in downtown Cape Porpoise, this combination gourmet market/catering company/take-out cafe is a gem, and a good spot to pick up creative freshly made sandwiches for a picnic.
Pier 77: Truth is, we had planned on having a light meal at The Ramp, the small pub underneath this waterfront restaurant in Cape Porpoise. That was packed, but I knew we could order off the same menu, if we asked, in the fancier— yet still casual—restaurant upstairs. Although also busy, we were able to sit at the bar, where we cobbled together a meal from the bar menu, enjoyed the sea views out the windows, and listened to the pianist play in the background. FYI: The acoustics here aren't conducive to a quiet meal.