Debating the best way to travel between Boston and Maine? The best options are the Concord Coachlines bus service or the Amtrak Downeaster train service. Here's the skinny on both:
Concord Coach Lines bus service between Boston and Maine

The Concord Coach Lines bus has extremely frequent service between Boston's Logan Airport, Boston's South Station, and Portland's Transportation Center, with less frequent buses continuing up the coast or routing inland to Bangor.
Put aside any qualms you may have about taking buses. This service is excellent, drivers are professional and courteous; coaches are spotless; movies are shown (bring your own headphones or purchase cheap ones at the station); there's free WiFi;  many coaches have power outlets at each seat; passengers departing Portland are offered free water and pretzels; all coaches have a restroom. Cell phone use is prohibited except for emergencies and quick calls.
This is a great service that I use frequently when headed to Boston and always when I'm flying via Logan. Because the bus docks in South Station, it's also the easiest access for Amtrak's Northeast corridor trains. (You can easily walk between the bus and train terminals. All trains heading south depart from here, only those headed to Maine depart from North Station).
Routes:
• Portland/Boston: Most buses between Portland and Boston visit South Station, before continuing to Logan Airport; a few reverse that; and there also are direct buses between Portland and Logan. The Logan buses stop at all terminals, dropping off at departures and picking up outside arrivals (look for the blue Scheduled Buses sign).
• Coastal service: The coastal route stops in Brunswick, Bath, Wiscasset, Damariscotta, Waldoboro, Rockland, Camden/Rockport, Lincolnville, Belfast, and Searsport, before turning inland to Bangor, and Orono. From Bangor, there are options for getting to Bar Harbor.
• Inland service: The inland route stops in Augusta, at Colby College in Waterville, Bangor, and Orono.
Tickets:
You can purchase tickets online or at the stations. If you don't have a ticket, expect the driver to take something as collateral, which will be returned once you purchase one at a station. You can also purchase tickets via Megabus, but be forewarned, while some are heavily discounted, others are more expensive: check both sites before purchasing.
Amtrak Downeaster train service between Boston and Portland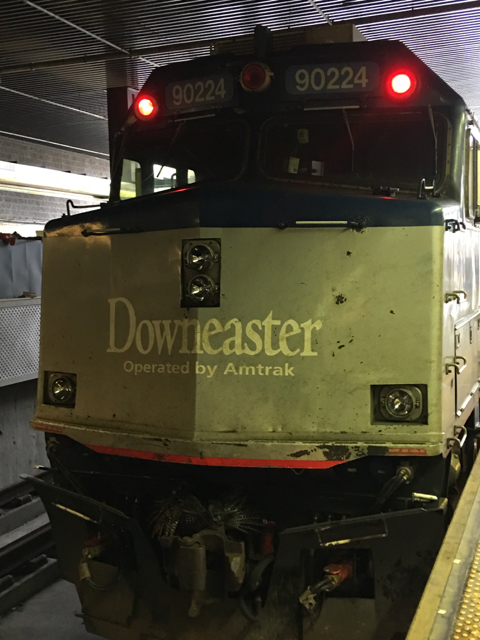 Amtrak's Downeaster train operates between Boston's North Station and Portland's Transportation Center, with less frequent service to Freeport and Brunswick.
The train's a bit pricier and the ride's a bit longer than the bus, but it's nice to be able to move around the cars, and it edges the coastline for a bit, before veering inland providing glimpses of communities en route, rather than highways.
WiFi is free, there are power outlets available, and there's a cafe car offering light fare and drinks as well as Charlie Cards for the Boston T. Seats are less cramped and restrooms are much nicer than those on the bus. Other pluses: The train is accessible for those in wheelchairs and it tends to be more reliable when the weather is really bad. I wish the train ran more frequently, because I would take it more often.
The Route:
Between Boston and Portland, the train stops in Woburn/Anderson and Haverhill, Mass.; Exeter, durham-UNH, and Durham, N.H.; and Wells, Saco, and Old Orchard Beach (seasonal), Maine. From Boston, if you want to continue south on Amtrak, you have to cab or take the T to South Station.
Tickets:
Purchase online or at the station. Do check for applicable discounts; some of these require a three-day advance purchase.