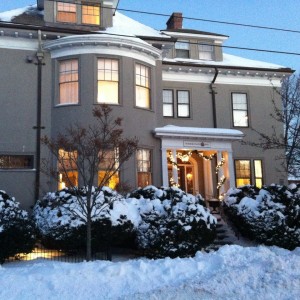 Every morning, when I see the Pomegrante Inn's feed on Facebook, I start drooling. Innkeeper Dana Moos authored The Art of Breakfast, which I reviewed when it was published. I finally spent a night at the inn earlier this week.
Now before I start dishing about the inn, and especially about the breakfast, know this: Dana is leaving the inn at the end of March (2013) to pursue other opportunities, especially catering. So if you want to experience her breakfasts, you need to steal away soon (and enjoy off-season rates, too).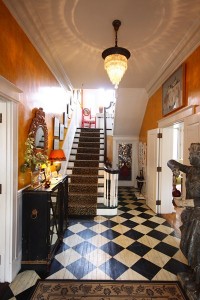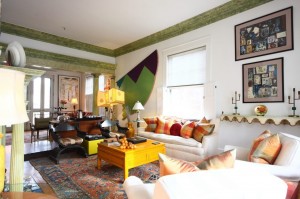 Staying a the Pomegranate is like sleeping in a combination contemporary art gallery and specialty antiques boutique; it's an immersion into color and whimsy. The decor is not traditional B&B or inn, but eclectic, surprising, sophisticated, and fun. Museum-quality artwork by contemporary Maine artists hangs throughout the house, an Italianate mansion in Portland's West End neighborhood. The art is complemented by authentic, fun, and funky antiques and faux this and that, all flirting with hand-painted walls.
Downstairs public rooms include front-to-back living and dining rooms, each with a fireplace and each with all sorts of intriguing accent pieces. Color is rampant throughout: This isn't a place for the color shy.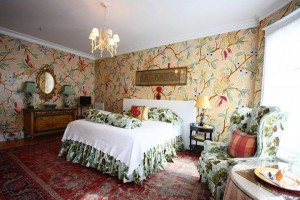 I checked into Room 4, which reminded me of an English manor house inn. It was spacious, decorated with a mix of art and antiques, had a gas-fired fireplace, small flat-screen TV, and a seating area with two wingback chairs. What I loved most were the hand-painted walls, with a branch motif and lovebirds. Bedding with rich and comfy. The bathroom small but had everything necessary, right down to a nightlight.
I could have holed up in my room for hours, but there was rugelach and tea downstairs. Although I tried to refrain, I returned for another piece of this delicious treat, and then another.
Outside the snow fell softly; inside, I watched TV, dozed, and enjoyed the fire. Not wanting to drive in the snow or give up my off-street parking place, I walked to dinner at Caiola's, an easy jaunt, for a light meal off the apps section of the menu and a glass of wine.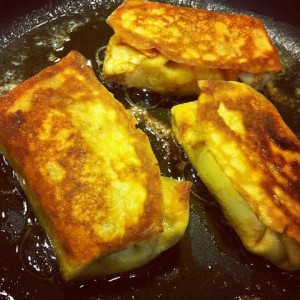 As expected, breakfast the next morning was a treat that began with grapefruit brulée and ended with ricotta, Parmesan, butternut squash, and zucchini crepes served on a bed of spinach and accompanied by truffled, roasted potato wedges and a cup of fresh strawberries. This was a sweet and savory dish that I couldn't stop eating, even when long past full. Presentation was in keeping with the art theme, unfortunately I neglected to take a picture. Trust me, it was almost too pretty to eat.
The inn's location on Portland's West End is within walking distance of restaurants and within strolling distance of Arts District attractions. If you don't mind hoofing, you can wander through most of the downtown area—and work off those breakfasts and snacks in the process.
Here's the recipe from the cookbook; I think it would be equally good as a brunch, lunch, or even light dinner fare.
Ricotta, Butternut Squash & Zucchini Crepes with Sage Brown Butter
From The Art of Breakfast, by Dana Moos
12 Basic Crepes
1 whole Butternut squash
2 sweet onions
1 medium zucchini
1 tablespoon extra virgin olive oil
15 ounces Ricotta cheese
1 cup cottage cheese
1 egg yolk
½ teaspoon salt
1 stick butter
2 large sage leaves
freshly ground black pepper
Preheat the oven to 350 degrees.
Halve and seed the squash and roast until soft, about 45- 55 minutes. Once cooled slightly, remove the skin.
While the squash is roasting, dice the onions and dice the zucchini and sauté in olive oil until lightly browned and soft, about 10-15 minutes.
Put the squash, Ricotta, cottage cheese, egg yolk and salt in food processor and mix until very smooth. Place 2 tablespoons of the filling in the center of each crepe.Add 1 tablespoon of the zucchini and onion mixture and fold in each side, creating small square pouches.Place seam side down onto a parchment lined rimmed baking sheet. Repeat with the remaining crepes. Cover and bake the crepes for 20 minutes until puffed.Uncover and cook for another 5 minutes. (Alternatively, you could pan fry them in butter and olive oil until lightly browned on each side and then place in oven for 10 minutes to finish
Heat the butter in small sauté pan over medium heat with sage leaves until the butter just starts to brown, about 10-12 minutes (it will first bubble, then brown). Remove the sage leaves.
To serve, place two crepes on a plate and drizzle with the browned butter. Add freshly cracked black pepper to taste and top with a sprinkling of shredded Parmesan.