More than 20 schooners and other sailing vessels are expected to arrive in Camden this weekend (Aug. 31-Sept. 2, 2012) for the Camden Windjammer Festival, the annual maritime celebration. The jam-packed weekend includes a maritime heritage fair, talent show, fireworks, crate race, pancake breakfast, chowder challenge, demonstrations and contests, controlled boat races, art auction, boat parade, and a party honoring the schooner Mary Day, celebrating its 50th anniversary this season.
My friend Sheila Grant, author of Fifty Great New England Family Fishing Vacations, recently cruises aboard the Mary Day. Here she shares here experience.
Getting my sea legs aboard the Schooner Mary Day
by Sheila D. Grant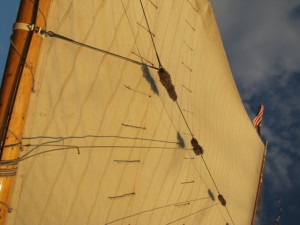 I have a confession to make. I am a landlubber. It's not that I lack an adventurous spirit so much as that my unfortunate tendency toward motion sickness quashes that spirit at times. The idea of dining, much less sleeping, below deck was enough to make me queasy sitting at home in my computer chair – but when the opportunity to spend three days aboard the Mary Day came along, I couldn't pass it up. Now that I've been, I would encourage anyone to give this Camden-based cruise a try. I didn't even need the medication or ginger gum that I packed, just in case!
The Mary Day, which celebrates her 50th Anniversary this year, launched in 1962 as the first coasting schooner built specifically for the windjammer trade, and as such, offers roomier accommodations than most tall ships. A window and skylight in each provide daylight and fresh air, making the cabins feel anything but "below deck." On each bunk is a plastic bucket that may be used to bring hot water back to the cabin. The bucket contains other necessities, including: a plastic tumbler for drinking water from the sink found in each cabin; soap dish and soap; aloe gel (in case of sunburn); and lip balm.
There are several fun items in the welcome kit, including The Schooner Mary Day Log of Discovery, a booklet providing a history of the ship, space to enter the names of all crew members, a diagram naming parts of the ship, space for notes and photos from the voyage, a quiz on nautical knowledge, how-to information on knot tying, two of the most requested recipes from the ship's galley along with space to write down additional recipes, and space to record contact information from fellow passengers.
On that first night, and throughout the voyage, I discover that Captain Barry King is adept at finding harbors so calm that I cannot tell I'm aboard a ship as I drift off to sleep.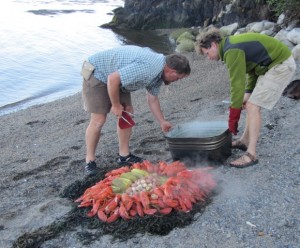 The ship's cook is a magician of some sort. With no electricity, and only a woodstove to cook with, she whips up delicious breakfasts served family-style in the beautiful wood-trimmed galley, and buffet-style lunches that we take back up on deck to enjoy. Dinner the first evening is an old-fashioned lobster bake ashore at our anchorage for the night, complete with plenty of snack foods, hotdogs and burgers for those who don't do crustaceans, and, dare I say it – all the lobster you can eat!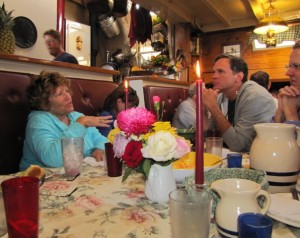 Dinner the final evening is also served family-style, but because it's a special occasion, there's candlelight and sparking juice to go with the baked ham, stuffing, mashed white and sweet potato medley, and more. For dessert, an ice cream sundae buffet up on deck with vanilla and chocolate ice cream that we've helped crank out ourselves on an old-fashioned ice cream maker. There's nothing quite like watching a sunset at sea while dining on ice cream. And happily for me, because breakfast and dinner are served at anchor, and lunch is on deck, motion sickness does not dampen my appetite even a little bit.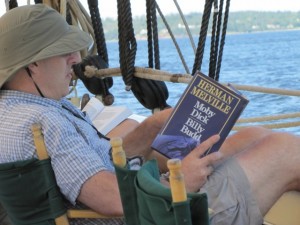 The cruises are promoted as being "unplugged," because Captains Barry King and Jennifer Martin believe that only by leaving cell phones, laptops, and workaday cares behind will passengers truly relax. To fill the void, passengers do what people used to do before the advent of television. We talk. We learn about the ship, about knot tying, or steering, or the history of the region. We learn about each other. We read. We rock in the big old rocking chair next to the ship's wheel. We nap. We relax.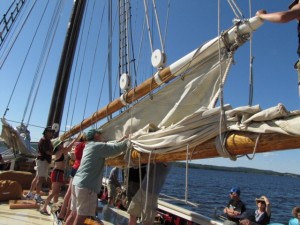 I had wondered how I might fill my time, since reading aboard any moving thing is out of the question. I did envy my fellow passengers who were able to devour a good novel during the trip, but I found wonderful ways to occupy myself, as well. Watching captain and crew work is pretty fascinating stuff, as is taking a turn hoisting or furling sails, or steering the ship so that her mighty sails can work with the wind. Keeping a sharp eye out for wildlife yielded many seal and porpoise sightings, as well as a few osprey. Being a bit of a shutterbug, and enamored of the ship's sails in every sort of wind and light, I took more than 350 photographs. And best of all was the time to just…be.
NOTE: Captains King and Martin are hosting a 50th Anniversary Party for the Mary Day on Sunday, Sept. 2 from 11 a.m. to 2 p.m., at the ship's dock in Camden. Local music and complimentary refreshments will be available, and the captains plan to unveil a surprise gift for the vessel. The event is happening in conjunction with the Camden Windjammer Festival and is open to the public.