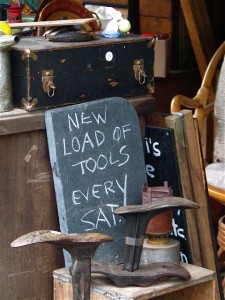 If it weren't for Skip Brack, it's likely the rural town of Liberty, Maine, a dip off Route 3 just inland from coastal Belfast, would be bypassed by all but the handful of folks who call it home. Between 1976 and 1986, Brack purchased and restored Liberty's downtown buildings (all three of them), and created a must-stop shop for trades-people, collectors, renovators and home hobbyists.
Liberty Tool occupies the three-story building that once housed the Liberty Village General Store, which had a rooming house on the second floor and a dance floor on the third floor. These days, tools fill every nook and cranny of the first floor and mingle with antiques, junktiques, book, and what-have-you on the upper floors. Across the street, the former Banks' Garage, next to the museum building, has been reborn as the power-tool annex, a Craftsman extravaganza. Upstairs, in the adjacent former Masonic Hall, Brack established the Davistown Museum.
For more than 40 years, Brack's scoured New England attics and cellars for early Native American and Colonial-era tools to buy, restore, resell or display. "My only forte is sniffing out what's been left behind by others," he says. The rarest and the best finds he saves for private sale or to display in his labor of love, the Davistown Museum; the rest are destined for his tool emporium.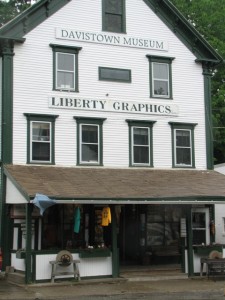 Liberty Tool's stock includes everyday tools as well as the hard-to-find, specialized ones desired by shipbuilders, housewrights, chairmakers and coopers as well as tools used by blacksmiths, tinsmiths, watchmakers, jewelers, weavers, tool-and-die makers and engravers. Beyond specialists, Liberty Tool lures weekend renovators and hobbyists who know they can find brand-name tools in good condition for reasonable prices.
No other shop has the quantity, quality, low prices or such persnickety organization. Every tool has been cleaned, restored and grouped by type on shelves and into drawers, bins and barrels, most labeled with the specific contents: flat files, flat bastards, round files with handles, triangular files with handles, large smoothing files without handles, small smoothing files with handles, large rasps and so on. Not only is every tool sorted, but it's also labeled with a rock-bottom price. "No dickering," Brack declares.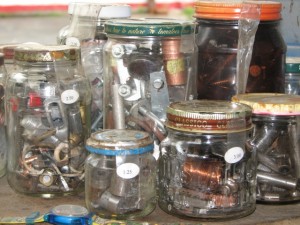 Throughout the store are grab-bag jars filled with a miscellaneous assortment of the smallest items, perhaps bolts and bits or brass fittings. You might see one item in the jar you want — a link for a chain, a wood screw, sockets for socket wrenches — but the whole shebang is yours for $1 or so.
Despite its name, Liberty Tool isn't just about tools. When cleaning out a house, Brack finds "perhaps three to 10 tools of significance and 200 other objects that help pay the bills." He fills the upper floors with the surplus and salvage: antique and used furniture, old books and magazines, glassware and pottery, toys and collectibles.
The "tools of significance" often end up in the Davistown Museum, where he's soldiered together his passions for old tools, historical memorabilia, environmental activism and contemporary art. Native American, Colonial and industrial-era antique tools and artifacts share space with contemporary sculptures and paintings by members of the Maine Artists Guild, and historical artifacts and documents from Liberty and adjacent Montville, once collectively known as Davistown.
"All museums love to do exhibits on who sailed which ships where, but they don't ask about the cargo, how it was made and the tools used to make it," Brack says. Explaining those connections and the stories behind the artifacts and interpreting New England's history through them is the museum's niche.  It's a place where the subtle links between history, tools and art–the historical, the practical and the aesthetic—are, well, hammered out.