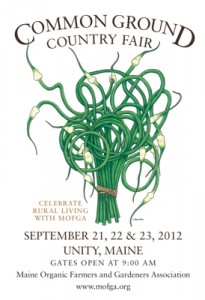 It's fay-uh season in Maine, and if you want a different take on the usual fair fare, head to the Common Ground Fair, Sept. 21-23,  in Unity. Sponsored by the Maine Organic Farmers and Gardeners Association (MOFGA), it's a celebration of rural life without the gliz, glitter, hype, carnival rides, or junk food. The last time we went, we squeezed our pickup between a battered Volkswagen bus and a gleaming Volvo wagon with two childseats. That, in a nutshell sums up the fair's demographics.
In addition to plentiful organic produce and food vendors (100-percent organic, at least 50 percent of ingredients sourced in Maine), the number and variety of offerings are overwhelming. Tents shelter crafts, folk arts and Native American arts, exhibits by social and political-action organizations, environmental activists and whole-life practitioners. There are spinners and stone-cutters, exhibits about sustainable energy and environmental concerns, a children's area and youth enterprise zone.
Now add the talks, demonstrations and contests—for example, sheepdog demonstrations and donkey and mule shows; Choosing the Best Goats for You and Growing Food Legumes in Maine; the Horseshoe Pitch Off and the Harry S. Truman Manure Pitch Off. The latter two events are conveniently held near the composting and recycling area.
Anyhoo, you get the idea, this fair is way cool, way green, and way fun.
A few notes: If you run on caffeine, drink up before entering the hallowed grounds. Don't even consider bringing a pet. If driving, park nose in. Ride your bike to the fair, and you get valet parking and $2 off admission. Go hungry.