I spent the better part of the past five months noodling the highways and byways of Maine's Acadia region researching a new edition of my Moon Acadia National Park book for spring 2012 publication. As I noodled, I nibbled, and I wanted to share some of the must-have Maine-made foods that left me craving more. Many are available via online order, so if you can't get to the source, you can still get the goods.

Lucy's Granola: Yes, I know, granola makers are everywhere in Maine, but Lucy's won me over. It's hand mixed in Blue Hill by Brit-born Lucy Benjamin, assisted by her three kids, husband, and some local helpers. She earns points for make her granolas with whole grains and unprocessed ingredients; sourcing her ingredients locally whenever possible; and using recycled materials for her shipped packages. But that's secondary to the flavor. I find too many granolas are overly sweet or dominated by the flavor of one ingredient. Not so Lucy's. Three flavors are available: Original, Extra Seedy, and Gluten Free, and she'll also make custom mixes.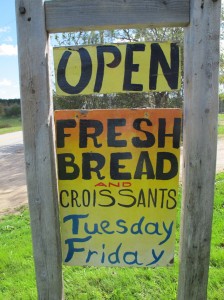 Tinder Hearth Bakery breads: Tim Semler, Lydia Moffet, and crew make the most fabulous breads in a rural farmhouse in Brooksville. Sure, you can purchase the loaves at local farmers markets and local stores, but looping out to the farm is an experience in itself. The European-style breads, handcrafted from organic flour (whole grain from Aroostook County, Maine, white from Quebec) and made from a sourdough starter, are baked in a hand-built, wood-fired oven. They're crusty, fire-burnished, dense, and chewy. Flavors include a French batard made from white flour, as well as whole spelt, Maine grain, and rye. It's a self-service, honor-bar-style operation. Go early for the best choices, whether that be to the farm or a market.
Buck's Harbor Market spreads: With a name like Artichoke-Parmesan-Truffle spread, how could I not purchase it? It combined three flavor that I find irresistible. Chef Jonathan Chase, who operates the market and the cafe out back (and co-wrote the wonderful Saltwater Seasonings cookbook highlighting local purveyors way back in 1992), is the genius behind this cream cheese-based spread. The flavor is strong, so a little bit goes a long way. While freezing isn't recommended, I've found it keeps quite well in the fridge, as the packaging is air tight. My favorite use so far? On homemade pizza…swoon worthy!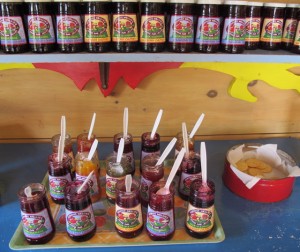 Nervous Nellie's Jams and Jellies: Who doesn't enjoy a good jam or jelly, chutney or marmalade? These are beyond good, especially the Sunshine Road Marmalade, a rough-cut marmalade made with navel oranges, lemons, and pink grapefruit (named after Nervous Nellie's location on the Sunshine Road, in Deer Isle). Of course Nervous Nellie's makes Wild Maine Blueberry Preserves, but it also makes a sibling product with a twist, Blueberry Ginger Conserve, made with wild Maine blueberries, peaches, cane sugar, fruit pectin, ginger, and organic lemon juice. Years ago, Nervous Nellie's supplied some of the country's top specialty food markets. It was growing too fast. Instead of expanding and enlarging, they opted to downsize their wholesale operation and concentrate on mail order and onsite purchases, instead. I've previously written about what a treat Nervous Nellie's is. Go if you can. If not, order online. You won't be disappointed.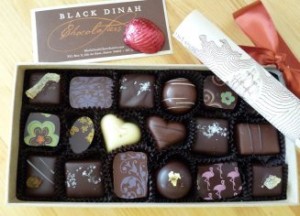 Black Dinah Chocolatiers: Whose to argue with Dessert Professional magazine, which in 2011 named Kate Shaffer, of Black Dinah, one of the top 10 chocolatiers in the country. The company is out on tiny Isle au Haut, but you don't need to make a visit (although, you should) to the island off the tip of Stonington, to enjoy these truffles. Kate's husband, Steve, sells them at local farmers markets in season, and shops throughout the state carry them. More on Black Dinah, here.

Maine Needhams: It was love at first bite, when I tasted a Maine Neeham left as a welcome treat in my room at Elsa's Inn on the Harbor, in Prospect Harbor. Needhams are a traditional Maine candy made with mashed potatoes and shredded coconut enrobed in dark chocolate. According to legend, they originated in Portland in 1872, and were named after local evangelical preacher George S. Needham. Heavenly treat in hand, I ran to innkeeper Megan Moshier and demanded to know where she found it. Turns out, Ellsworth. Owners Debbie and Timothy Jones cut and dip every piece by hand, using a recipe they developed and refuse to share with anyone, even their own kids! Because they refuse to use preservatives, they don't produce their Maine Needhams during the summer months. Maine Needhams are available in the original flavor, as well as in blueberry, maple, raspberry, almond, and mint. I've only had the original; can't see how it can be improved. You can order online.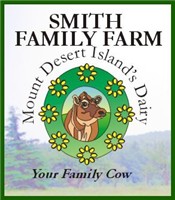 Smith Family Farm yogurt: This small farm in Bar Harbor, on Mount Desert Island, is no secret. Martha Stewart has been singing its praises for years, and its wonderful, organic dairy products are widely available in the state. I'm passionate about the yogurt, first introduced to me at the Ullikana Bed & Breakfast, in Bar Harbor. I use it in place of milk when making muffins and biscuits, drizzle it in soups, and pair it with Lucy's Granola for breakfast.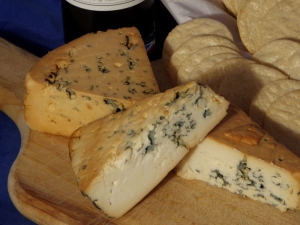 Grindstone Neck of Maine smoked blue cheese: Grindstone Neck is best known for its smoked seafoods—salmon, shellfish, finfish—but it also smokes a blue cheese. If you love smoked foods and you love blue cheese, this is a perfect marriage. I had my first nibble at Fisherman's Inn, the Johnson family-owned restaurant in Winter Harbor, on Maine's Schoodic Peninsula. The cheese is rich, creamy and has bite and zing. A little bit goes a long, long way. I like it on salads and burgers, and I'm thinking of experimenting with in a few soups. It's available at the store in Winter Harbor or via online order (and don't miss the other tasty products and samplers).