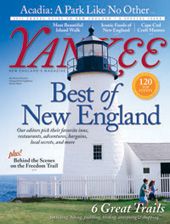 One of my more fun and challenging assignments for the best few years has been picking the Best of Maine for Yankee Magazine. (I shared a few of my 2011 picks on 207, the evening magazine TV show).  It's not an easy task, and one I don't take lightly. I agonize over these, as there are so many worthwhile candidates and so little space.
How does one go about selecting the Best of Maine? How do I choose the best food & dining, lodging, attractions, local secrets, and bargains? Do I go with the big-name icons? What about the little gems? And what to do with those out-in-the-boondocks finds? If a place has been named a best one year, is it automatically disqualified from being in the mix again even if it truly is the best? Yup, those are just a few of the arguments that roll on a looped tape through my brain. In the end, I mix and match, balancing icons with sleepers, biggies with boonies, perennials with finds.
Take a look at my picks and share your thoughts. Any candidates I should consider for the future?