Health food stores and natural foods groceries, along with Asian, Indian, and Mexican restaurants, are the usual go-tos for on-the-road vegetarians and vegans. While many of Maine's restaurants, especially those specializing in farm-to-table fare, offer at least one vegetarian entree, only a handful of restaurants in the state deliver menus created for or catering to vegetarian, vegan, and gluten-free diets.
Frankie and Johnny's Natural Foods, Cape Neddick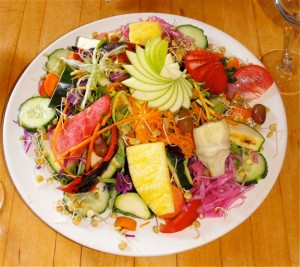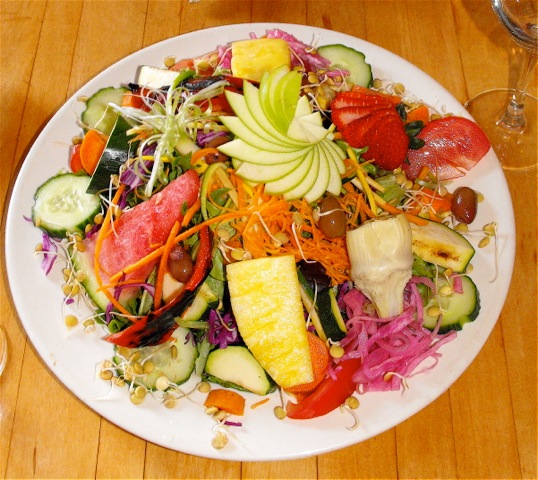 "Food that loves you back" is the slogan for Frankie and Johnny's Natural Foods. Inside the shingled restaurant, wood floors and pine-colored walls provide the background for the Culinary Institute of America-trained chef John Shaw's vibrant, internationally seasoned fare. Vegetarian and vegan choices are always on the menu, along with fish, seafood, and chicken options, and many dishes can be modified for the gluten-sensitive. Portions are generous, breads and pastas are made in house, and everything is cooked to order, so plan on a leisurely meal. All entrees come with a soup or salad. Bring your own booze, but leave the your credit cards behind since "plastic is not natural." ($23-36)
Little Lad's, Portland
It's the addictive herbal popcorn that first wins over many customers to Little Lad's, a no-frills vegan cafe, but it's the affordable lunch buffet at the dineresque spot that keeps them returning. The buffet spread includes soups, salads, entrees, veggies, grains, dessert, and sandwiches, with rotating options such as lasagna, whole-wheat pastas, shepherd's pie, "chick-in cacciatore," "linguini and meet sauce," [sic] and bean stroganoff. Fill your plate and bowl once for $4.99, and if by some chance you're are still hungry, return to the buffet for $1.
Green Elephant Vegetarian Bistro, Portland
The Asian-inspired fare at Green Elephant Vegetarian Bistro has persuaded many carnivores that going veggie doesn't not mean sacrificing flavor. Every menu item, including wine, is labeled as vegan, gluten free, wheat free, and/or organic. Regulars know to begin with the roti canai, an Indian flatbread paired with a curry dip. After that, favorites include char guayteow, Siamese dream curry noodle, citrus spare ribs, and tofu tikka masala. One taste, and you'll see the light. This place is extremely popular, and it doesn't does not take reservations.($10-16)
Silly's, Portland
Silly's is a treasure, a family friendly restaurant with a menu that pleases everyone. Vegetarian, vegan, and gluten-free choices are plentiful, and Silly's even has dedicated gluten-free and vegan fryers. Since almost everything is made in house from scratch, so the restaurant can accommodate specific allergies, sensitivities, and diets. Silly's sources much of its fare from Maine farms and businesses and it aggressively recycles, so you can feel good about dining here. And wait until you see the menu of milk shakes (regular, soy, or rice): The ingredients are outrageous—how about a peanut butter and grape jelly shake or a Guinness Stout or maybe The Travesty, made with chai, banana, and cinnamon? And the decor? Retro refined, with Formica tables and red vinyl and metal chairs, tin ceiling, and walls lined with photos of customers displaying Silly's bumper stickers in far-flung locations.($7-15)
Pepperclub, Portland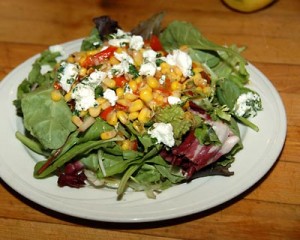 The Pepperclub is a long-timer, when it comes to Portland restaurants, and it was one of, if not the first, to serve vegan and vegetarian fare. The internationally flavored menu changes frequently and might include entrees such as North African stuffed peppers or Caribbean shrimp cakes, but there always are vegetarian and vegan specials, as well as local and organic meats and seafood. ($12-18)
Corsican Restaurant, Freeport
Since opening on a side street a block away from L.L. Bean's mothership in back in 1986, the unfussy Corsican Restaurant  has wooed vegetarians and families with hearty salads and pizzas, vegetable stroganoff, pesto pasta, and easy-on-the-budget favorites such as the lentil burger and Pedro's burrito with avocado. If you're craving a taste of Maine, start with a chowder and end with the blueberry crumb pie. Kids' veggie Children's vegetarian choices include PB&J, a veggie and cheese sandwich, and a veggie cracker plate. ($9-18)
She Doesn't Like Guthries, Lewiston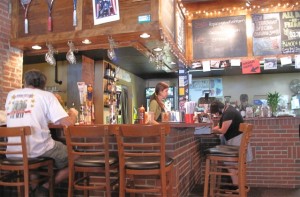 Eco-conscious, budget-bound urban bohemians: She Doesn't Like Guthries is your happy place. Heather and Randy Letourneau's Maine-certified green restaurant pairs healthful fare, including veggie, vegan, and wheat-free choices, with local art and eclectic music. Feast on wheat-free fiesta bowls, wheat-free tacos, veggie and vegan burritos, BBQ smoked tofu quesadillas, hearty soups, serious salads, and veggie-rich paninis. Now add frequent live jazz or bluegrass. ($6-10)
Salt Bay Cafe, Damariscotta
No matter when hunger strikes or what your dietary preference, the has you covered. This comfy, casual intown spot has been a local favorite for more than a quarter century, yet its menu never gets tiresome — perhaps because it's so broad. In addition to the main menu, there are separate menus for vegetarians/vegans and kids, each with dishes for all appetites. Craving a lighter meal? Opt for a sandwich or salad. Famished? Try the Greek pasta, the char-grilled vegetable plate, or the Caribbean bean cakes. All entrees come with a soup or salad. Salt Bay serves breakfast, lunch, and dinner daily, except Easter and Christmas. ($8-24)
Chase's Daily, Belfast
Even the culinary poobahs at the James Beard Foundation have discovered Chase's Daily  which has twice been nominated for Best Chef Northeast. The daily changing menu is built upon seasonal fresh vegetarian fare, with much of it sourced from the Chase family's farm in nearby Freedom. It's a restaurant, but it's also an art gallery, bakery, and farmers' market. (Enjoy ed those salad greens or peas? You might be able to take some home.). Breakfast and lunch are served daily except Monday; alas, dinner is served only on Friday nights. ($15-22).
Riverside Cafe, Ellsworth
Despite changes in ownership and location, the no-longer-riverside Riverside Cafe  remains an extremely popular downtown restaurant among both locals and those passing through en route to Mount Desert Island or farther Down East. Breakfast is served until 2 p.m., and the vegetarian sections of the breakfast and lunch menus include choices such as veggie bBenedict, vegan French toast, veggie burger, and homemade quiche. Pair it with a fresh fruit smoothie, and you're good to go. Dinner is served on Friday and Saturday evenings, and veggie choices might include eggplant parmesan and pastas. ($7-11)
Eden Vegetarian Cafe, Bar Harbor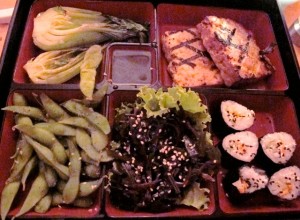 Eden Vegetarian Cafe,could turn even the most committed cowboy into a veggie-eating happy hipster. This seasonal restaurant has been earning raves since Mark and Lynn Rampacek opened it on West Street in 2003. The menu, which changes daily, gives a vibrant, internationally flavored twist to seasonal ingredients, most of which are organic and whenever possible sourced on Mount Desert Island. The Eden bento box is a menu stalwart, but other appetizers and entrees might include a Persian tomato tartlet, split pea soup with house-made smoked seitan sausage, French country tempeh, coconut crimson lentil dahl, or spicy jungle noodles. Don't miss the iced hibiscus tea or the organic bog jooce, made with cranberry juice sweetened with maple syrup. ( $16-21) See my review.
Taste of Eden Vegan Cafe, Norway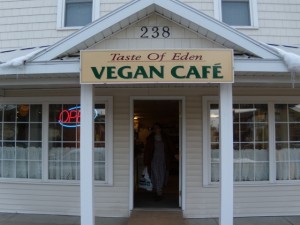 Michael and Sonya Tardiff, owners of Taste of Eden Vegan Cafe believe a plant-based diet can get rid of many illnesses, and their pleasant cafe doubles as a source for vegan groceries and information. Daily specials, including chickpea Alfredo, vegetable potpie, and harvest nut roast, augment the homemade soups, salads, and sandwiches. Gluten-free and other dietary restrictions usually can be accommodated. ($4-8)