Drive northwest on Route 27, a Maine Scenic Byway, from Sugarloaf, in Carrabassett Valley, and after passing Flagstaff Lake and Chain of Ponds and passing through a tiny border crossing, you arrive on the eastern edge of Canada's Eastern Townships.
I tend to think of the townships as New England north, but with a decidedly French accent (not to mention French food and flair). I traveled with three gal pals, taking a circuitous route through this landscape of lakes and mountains, farmlands and villages, en route to a conference in Quebec.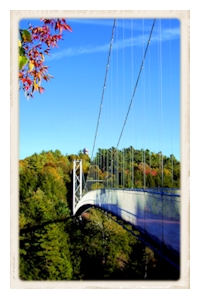 First stop: Coaticook Gorge. Timing is everything, and we managed to squeeze a 1.5-hour mosey through along trails between thunderstorm downpours. Highlight: Crossing the 554-foot-long, six-foot wide bridge suspended 154 feet above the gorge (that's about 16 stories). According to our guide, Cassandra Marcux,  it's listed by  Guinness as the longest  suspension footbridge in the world. Pretty impressive, with just enough wobble in the walk to raise the heartbeat a tinch.
The park is open to anyone ($7.50 Cdn. adult) to walk on their own, but you can request a guide for a free tour that covers the history and more. Cassandra explained the natural features of the gorge and the economic history, including tales of the mills and the creation of the power dams and tunnels.
An excellent restaurant on the premises serves local foods. As we enjoyed cheeses, smoked fish, and other goodies, our waitress pointed to nearby tables: "The cheese comes from their farm; he smokes the fish." Nice selection of local crafts on display, both in the restaurant at the adjacent shop.
We rewarded ourselves for the somewhat soggy trek with an ice cream at Laiterie de Coaticook (site is in French, no English translation that I could find), just up the road. Oh. My. We were told this was some of the best ice cream in Quebec, and I can't argue with that. This area is the region's dairy center, so the ice cream is ultra fresh and comes in rather creative flavors. I chose a Bordeaux cherry chocolate amaretto. Yup, that's all one flavor, and it was divine.