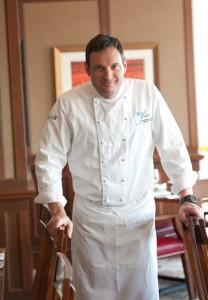 I asked Chef Mitchell Kaldrovich, of the Sea Glass dining room at the Inn by the Sea, in Cape Elizabeth, Maine, to share a recipe for one of Maine's favorite spring delicacies, fiddleheads.
"I am very excited to have our forager bring us fiddleheads next week. You have to treat them lightly so they retain their mellow flavors—as you would fresh asparagus.
"Fiddleheads are best with a  simple single flavor such as a little lemon. I also like to blanche them, very quickly, so they keep their crunchiness. Last spring I pickled them and then fried them tempura style to make a delicious top or side for a fish dish or to serve with a salad."
I asked chef whether he had experience with similar spring vegetables in Argentina, where he grew up:
"There was nothing quite like this in Argentina. Fiddleheads really are special to Maine and the climate here—delicate shots pushing out of the earth from under fallen leaves—very special to Maine and the arrival of spring!"
Kaldrovich's recipes often blend his passion for fresh Maine ingredients with an Argentinian twist. I had the pleasure of dining at the inn a couple of weeks ago, and I can tell you, it's a treat. (see note at end about a seasonal dining special).
In this recipe for Maine fiddleheads, Chef Kaldrovich also used Farm Hill Farm goat cheese, making it a double Maine treat.
Fern Hill Farm Goat Cheese Croquette
with Marinated Fiddlehead Salad
Herb Lemon Vinaigrette:
1 Small Shallot, mince
2 Tbs. Wild Flower Honey
2 Tsp. Dijon Mustard
2 Lemons, Juiced & zest
¾ Cup E.V.O. Oil (extra virgin olive oil)
Maine Sea Salt or Kosher Salt, Fresh Ground Pepper
Combine all the ingredients in a bowl. Whisks vigorously add slowly the oil. Season with salt and pepper. Set Aside
**
2 Tsp. Fresh Oregano, chopped
1 Tbs Chives, chopped
2 Springs Fresh Tarragon, chopped
2 Handfuls Baby Arugula (Rocket)
2 Handfuls Baby Spinach
4 Radishes, scrubbed and finely sliced.
1 lb. Wild Fiddleheads, ends trimmed, rinsed.
Blanch the Fiddleheads in boiling-salty water for 3 minutes. Shock in icy water. Drained and season with salt, pepper, fresh herbs and dress with the with the lemon vinaigrette. Add the Radishes, Spinach and baby Arugula, Taste for seasoning again and arrange in the center of a bowl, top with Croquettes, serve warm.
Goat Cheese Croquettes:
2 Cups Fern Hill Fresh Goat Cheese
Salt & Fresh Black Pepper
2 Eggs
2 Cups Breadcrumbs
½ Garlic Clove
1Tbs. Chives, chopped
2 Tbs. Fresh Italian Parsley, chopped
Mix Goat Cheese with Salt, Pepper, Chives and half of the Parsley
Scoop out on a plate and chill to firm up. In a bowl mix Eggs with Parsley, Salt & Pepper. Put breadcrumbs in a bowl and roll all the Goat Cheese forming round with our hands. Dip in the egg mixture then coat with breadcrumbs. Refrigerate. Fry in Canola Oil until golden brown.
Enjoy !
Chef Mitchell Kaldrovich / Sea Glass at the Inn by the Sea / Cape Elizabeth, ME
Note: Through the spring, on Sunday through Thursday evenings, Chef Kaldrovich is presenting a seasonal three-course menu for $30, along with the usual Sea Glass menu and lobster tasting menu. The 3 for $30 menu changes weekly. From May 1-5, it includes: choice of baby spinach & arugula salad with goat cheese, marinated Maine tomatoes, and toasted almonds OR soup of the day; choice of hand-rolled ricotta gnocchi with housemade basil pesto, toasted pine nuts, spinach and Parmesan OR baked seafood pot pie with sh rimp, scallops, lobster, clams, sherry cream, and herb biscuit crust; and for dessert, Macintosh apple crisp, with vanilla gelato and oatmeal streusel.