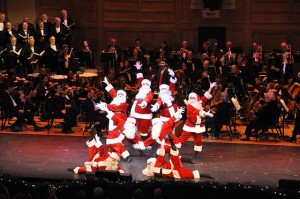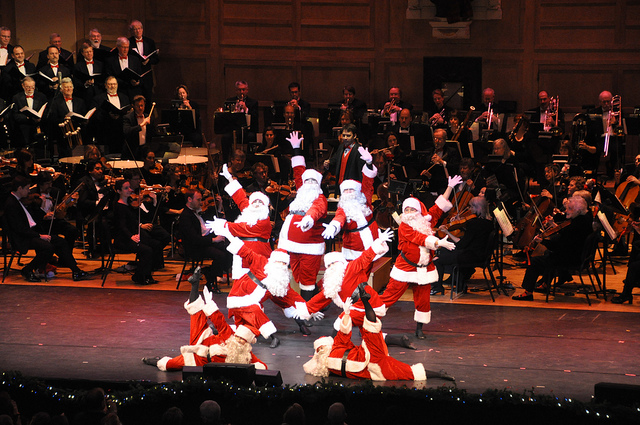 Tickets for the Portland Symphony Orchestra's annual holiday extravaganza, the Magic of Christmas, always go quickly, so act quickly if you want to score primo seats for the season's primo show. The 2010 Magic of Christmas lineup features PSO Music Director Robert Moody leading the PSO in a program of familiar holiday hits. Expect music, dance, theatrical readings, the Festival of Trees, and plenty of holiday hoopla. Eleven performances are scheduled between Dec. 10-19 at Merrill Auditorium. Tickets range $25-55 (plus any applicable fees); kids save $10, seniors save $5.
Highlights:
•    Maestro Robert Moody leading the Portland Symphony Orchestra in a festive and inspirational program of classical and popular holiday hits.
•    Joe Cassidy portraying Scrooge and all the voices in A Christmas Carol and performing the Irving Berlin classic White Christmas and other seasonal favorites. Cassidy has been seen on NBC's Law & Order as well as on Broadway as Freddy in Dirty Rotten Scoundrels and in 1776, Les Misérables and A Christmas Carol at Madison Square Garden. As a concert soloist he has performed with many symphony orchestras around the country.
•   Soprano Suzanne Nance as featured vocalist, joining Joe Cassidy and Robert Moody for a newly-discovered trio from Nutcracker, The Oratorio.  Nance has performed recitals across Maine in Fort Kent, Presque Isle, Blue Hill and Bangor and in concert with the Bangor Symphony Orchestra as well as the PSO. Recently, she performed in Prague, London, Philadelphia, Chicago and New York. Nance also produces and hosts MPBN's Morning Classical music program.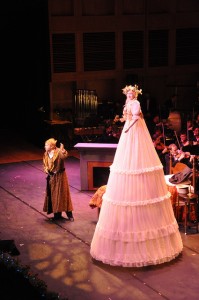 •    The addition of the Fezziwigs, along with the Ghosts of Christmas Past, Present and Yet to Be, to the cast of larger-than-life puppets from Figures of Speech Theatre in the unforgettable condensed adaptation of A Christmas Carol.
•    Angelic voices of the Saco Bay Children's Choir singing "Somewhere in My Memory" from the hit movie Home Alone, and joining the all-volunteer Magic of Christmas Chorus for inspirational carols and holiday tunes.
•    Traditional favorites including "Sleigh Ride," when the PSO players try to outdo each other with their festive and comical attire, and the inspirational audience sing-along when patrons can lift their own voices in celebration of the season.
•    Magic of Christmas Dancers portraying multiple roles in A Christmas Carol and also forming a Rockettes-style kickline of dancing Santas.
•    Pre-concert performances by students from the Maine Suzuki Association (Dec. 12 and 19 at 1 p.mm.) and Ray Cornils at the Kotzschmar Organ Prelude Concert (all other performances).
•    Festival of Trees, a display of beautifully decorated Christmas trees that will transform the Merrill Auditorium lobby into an enchanting winter wonderland during the run of Magic of Christmas. Twelve local businesses have donated their creative talents to decorate their own uniquely festive tree.