Artists, writers, and other creatives: Check out these Artist-in-Residence programs in Maine.
Acadia National Park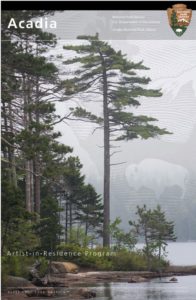 Program: Two week immersive experience in Acadia National Park; details here. Participating "artists lead one outreach presentation for the public, and donate within one year one work of art that depicts a fresh and innovative new perspective of the park for visitors that's drawn from their own experience."
Open to: Visual artists, Writers, At-Large (music composition, performing arts, indigenous arts, emerging technologies, etc.)
What to know: "While the program seeks to be fair, consistent, and transparent, the number of residencies, their timing on the calendar, and the variety of specific park locations where they are hosted, may vary significantly from one year to the next. During peak visitation, typically June through August, the quantity and complexity of artist residencies tend to be limited due to scarce park housing and staff capacity."
Application: Highly selective. Requires $25 non-refundable fee that benefits the program's operational costs (housing, display of art). All applications must be submitted online.
Deadline: Jan. 15, 2018.
The StudioWorks Artist-In-Residence Program, Lubec

Program: Four-week residency with private studios and/or live/work spaces in downtown Eastport, a working seaport edging Passamaquoddy Bay in downeast Maine. StudioWorks building offers private studios, common work areas, and printing and letterpress studio. Housing is in two adjacent buildings, the Veterans Memorial Hall / Royal Art Lodge and the Rathlin House, located one block away from StudioWorks and the Tides Institute & Museum of Art, which runs the program. Details here.
New for 2018: Eight-week residency for artists whose work or proposed projects will include working with school students and will benefit from a longer term in residence.
Open to: established and emerging visual artists from anywhere in the world
What to know: "A StudioWorks residency provides an artist with a unique experience to play an active role in our creative community through socially engaged projects, educational outreach or public programming."
Stipend: $2,000  for four-week residency, $4,000 for eight-week residency; paid 50% during first week of residency, balance at conclusion.
Application: $25 fee. Details here
Deadline: Feb. 1, 2018
Hog Island Audubon Camp, Bremen
Program: Private rustic lodging for 2-4 weeks with meals as specified. 330-acre Hog Island is located in Muscongus Bay, about a half mile off Bremen on the eastern side of the Pemaquid peninsula.
Open to: Artists in all disciplines, but preference to those "whose work brings a broader appreciation of the natural environment, culture, and/or history of the coastal Maine ecosystem, and/or supports the mission of the Seabird Restoration Program to promote the conservation of seabirds and their critical habitats."
What to know: Read the info here for details on lodging, meals, what's expected. Artists-in-residence will make one camp presentation during each two-week stay. One completed work to be donated to the National Audubon Society.
Application: $40 nonrefundable plus support materials
Deadline: Feb. 1, 2018
Haystack Mountain School of Crafts, Deer Isle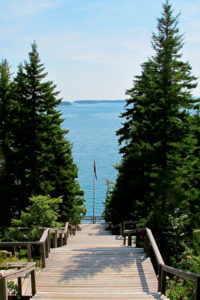 Program: Open Studio residency, May 27-June 8, 2018
Open to: "Established and emerging artists working in a range of visual art and craft media."
What to know: "Haystack's Open Studio Residency fosters a dynamic exchange of ideas among peers and provides two weeks of studio time and an opportunity to work in a supportive community of makers. The program accommodates approximately 50 participants—from the craft field and other creative disciplines—who have uninterrupted time to work in six studios (ceramics, fiber, graphics, iron, jewelry, and wood) to develop ideas and experiment in various media. Participants can choose to work in one particular studio or move among them depending on the nature of their work. All of the studios are staffed by technicians who can assist with projects." Housing assigned at random. Program is free, but material costs and shop fees are the participant's responsibility.
Application: Applicants must pay a non-refundable application fee of $50 through a secure site on the online application. See site for complete details, but supporting materials must include a resumé, five images of recent work, and two letters of reference.
Deadline: March 1, 2018