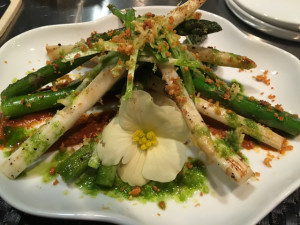 Over the past few months, I've nibbled and sipped from Kittery to Fort Kent, Calais to Fryeburg, while researching the upcoming 2017 edition of Moon Maine. The research kept me too busy to post much beyond my Maine Travel Maven Facebook page, but now I'm making up for lost time. Below are some of my fave food finds from Kennebunk to Rockport (some brand spanking new, others new to me). Part II will cover Camden through Ellsworth and inland.
Although well off most tourist's radar, Chef Rich Lemoine's restaurant is a local hotspot. Lemoine is an institution in these parts, having previously served as executive chef of the Cape Arundel Inn, the White Barn Inn, and the Salt Marsh Tavern, three of the region's best tables. He's innovative and dedicated to using Maine-sourced ingredients whenever possible. When I visited on a post-Columbus Day Tuesday night, the tavern was jam-packed and people were waiting for tables—and it isn't a tiny spot.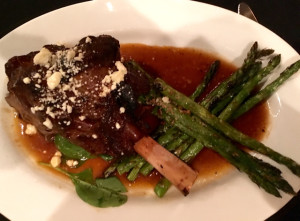 The soup of the night—Thai coconut asparagus bisque with roasted asparagus tips and sesame seeds—set the tone. It was sublime, rich in both texture and flavor. And I would return again and again for my entrée, grilled and three-hour braised lamb shank, served over baby spinach with natural gravy and crumbled Maine feta. Other choices on the menu ranged from a grilled Angus burger on a brioche roll linguini with pan-roasted shrimp, scallops,and clams in a roasted poblano cream; prices $11-25).
Chef Lemoine stopped by each of the tables for a quick chat, and it was obvious that almost everyone in the place knew him personally. The atmosphere—bar on one side open to the restaurant—is casual, cozy, child-friendly (separate menu), and just the kind of place you wish existed in your neighborhood. Open daily from 4:30pm, no reservations.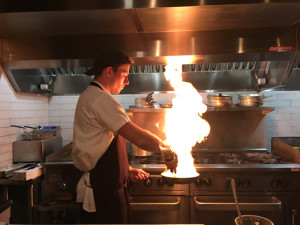 Wow! Shannon Bard's new Spanish tapas bar/restaurant in Lower Village stole my heart and dazzled my tastebuds. Bold flavors, masterful preparations, and a menu drawn from Bard's extensive travels and training in Spain had me drooling over every possibility. If Bard's name sounds familiar, you may know her from her many Food Network appearances—she recently won the title Kitchen Inferno Champion—and from magazine and newspaper stories about her. She also owns Zapoteca, in Portland.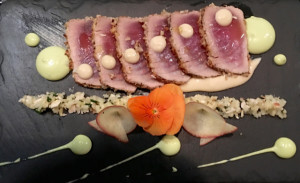 Here, she's got another winner under her toque. A friend and I sat at the tapas bar so that we could watch the three cooks concoct every item, turning each into a work of art. We worked our way through the bites, snacks, and cold and hot tapas selections, trying more than a half-dozen selections. Each one was a hit. My favorites? Even that's hard to decide. Maybe the tuna, or the mussel fritters, or the eggplant, or the clams with artichokes, or the lamb meatballs with sherry foie gras cream, not to leave out the oxtail-stuffed piquillo peppers. I know! You're drooling, too.
The long L-shaped room has a bar and bare tables on one end, the tapas bar and white tablecloths on the other—not too worry, the vibe is casual; no need to wear fancy clothes, although you wouldn't feel out of place if you did. From 4:30pm daily and Sunday 11am-3pm.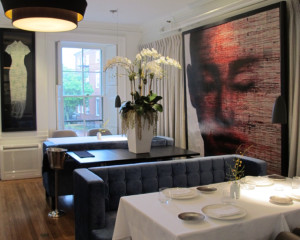 A couple of weeks ago, Tempo Dulo launched its fall menu, the first from new executive chef Michael McDonnell. I loved the previous chef's menu and was a bit apprehensive about the change. I shouldn't have been. Once again, I was wowed by this authentic immersion into the flavors of Vietnam, Thailand, Malaysia, Singapore, and Indonesia.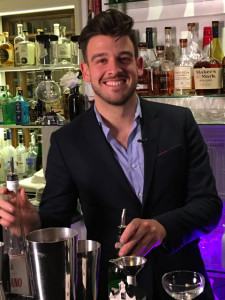 Tempo Dulu is located in the Danforth Inn, a historical brick property facing Danforth Street on the corner with Winter Street. Inside, it's chic, hip, and vibrant, bright with contemporary art and Southeast Asian accents. I love the moss chandelier in the lounge, where mixologist Trevin Hutchins (his actual title is Drink Designer) creates fanciful cocktails: StarChefs awarded his Jakarta cocktail as the best in the country last year. Cheers!
White-clothed tables fill three dining rooms, including one on a glassed-in porch. The tone is elegant and intimate, yet casual and not at all stuffy. Guests can choose from four menus: a la carte, with $21 apps and $34 entrées; a four-course for $69; a five-course lobster-tasting menu for $109; and the Chefs Tasting Menu Indonesian Rijsttafel ($85). My dinner comprised tasting selections from each of the menus. The coconut soup with roasted mushrooms and coconut foam left me craving more of this delicate, flavor-rich dish. Ditto for the chili-cured venison, another artistically presented tasting portion. I adored the steamed halibut with rice gnocchi and fermented black beans. I could go on—truly, each course was as gorgeous to look at as it was to eat. Mark this one as definitely worth the splurge. Open nightly from 5pm.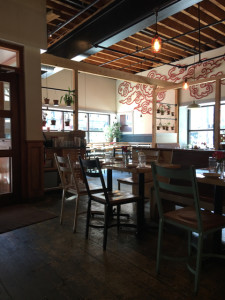 Empire Chinese Kitchen occupies the site of Portland's first deluxe Chinese restaurant, The Empire, which operated from 1916-53 and allegedly was the inspiration for Edward Hopper's Chop Suey, painted in 1929.
There's no chop suey on the menu now. Rather, Empire Chinese Kitchen is a sleek and casual dim sum palace. I was smitten after one bite of the lobster dumplings. Wow! They were light as a cloud and screaming with lobster flavor.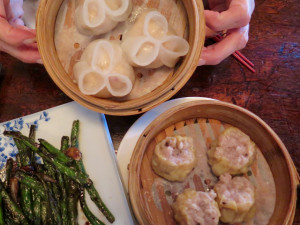 Then the garlic green beans arrived, and oh my! I've spent the past few weeks trying to recreate those at home. Following those came the har gow (steamed shrimp dumplings), chive shitake dumplings, and  steamed pork dumplings; each left me contemplating ordering more. I never even got to the rice and noodle dishes or the large plates, although I will return for the lobster longevity noodle.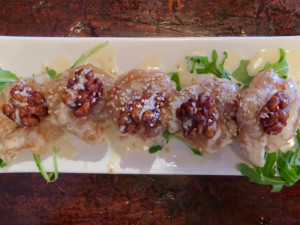 Save room and order the honey walnut shrimp for dessert; they're a sweet ending to a swell meal. Seriously, this is the kind of place that's best enjoyed with friends willing to mix and share, allowing you to order a big selection. Open Wednesday-Monday from 11:30am.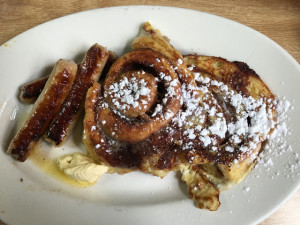 I've long been a fan of Deb's in Waldoboro, so when she opened in Bristol, I had to check it out. For scratch-made home-style cookin', you can't do better. The  biscuits alone are worth the trip, but if the morning special includes cinnamon-bun French toast, don't miss it and know that it's worth the wait. Deb's omelets are masterpieces; I had a Greek one where the egg seemed to be only there to hold together the spinach, tomato, and feta; mmm!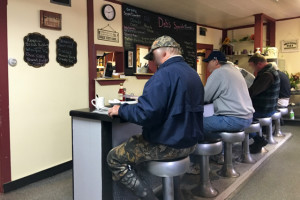 Both locations are small, so you might have to wait a bit for a table, especially in summer. The Bristol Diner has a handful of booths and a couple of tables as well as counter seating.
Open 6am-2pm Thursday-Saturday and Monday-Tuesday and 7am-noon Sunday (fewer days off season, check current schedule).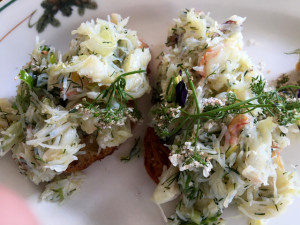 Maine meets the Mediterranean at Nina June, a casual trattoria and the latest restaurant from successful New York City chef, restaurateur, and cookbook author Sara Jenkins, a Camden native. Jenkins quietly opened in June, first offering only breakfast. About a month later, lunch followed. And in September, she dropped breakfast and added dinner. For the winter, the restaurant overlooking Rockland Harbor serves dinner Wednesday-Saturday, Saturday brunch, and Italian Sunday lunch.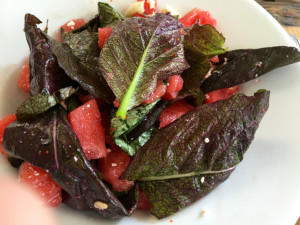 Jenkins takes local ingredients and makes them sing with flavor. It's Mediterranean comfort food at its best. She first won me over with breakfast and brunch. The baked strata, with sautéed oyster mushrooms, kale, eggs, and cheddar is killer, as is the shakshuka, comprising two eggs poached in a savory tomato and sweet pepper sauce and served with grilled semolina. Go with a friend and order both to share; you won't be disappointed.
And return lunch and again for dinner. During one lunch last summer, the crabmeat crostini and the watermelon salad were both outstanding. Trust me on this: If the shaved brussel sprouts/Manchego cheese/beets/olive oil/lemon app is on the dinner menu, order it. Ditto for the grilled swordfish and the grilled hanger steak.