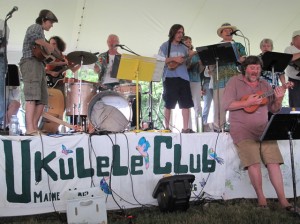 For the past two years, University of Maine at Machias Professor Gene Nichols (on drums, photo)  and the UMM Ukulele Club Band have performed at the Grand Lake Stream Folk Arts Festival. The band, originally formed in 1926, has staged a revival, with the wacky professor (no, really, just watch the UMM Ukulele Club with Prof. Gene Nichols on the saw, he plays to the crowd) at the helm.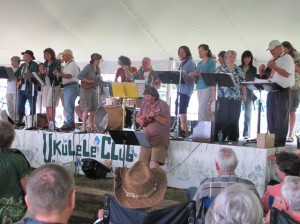 The amateur band comprises community members from about 9 to over 90, with close to two dozen or so often crowding on the stage. Talk about a good time! You can't help but enjoy the show. Don't expect stodgy music, this band rocks: Here's a 2007 performance of Back in the USSR.
If you're traveling Down East and have an opportunity to catch this group, do so. I don't think you'll be disappointed.