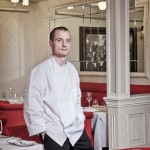 I convinced another one of Maine's talented chefs to share a recipe using Maine shrimp. A native of Belgium, Executive Chef Geoffroy Deconinck's career took him to Restaurant Alain Ducasse, Plaza Athenée in Paris, France, and then on to leading and executive roles in New York City's Café Boulud, Restaurant Daniel and Bouley Restaurant and now to Natalie's at the Camden Harbour Inn.
Meyer Lemon Risotto with Maine Shrimp
For about 10 starter servings:
1 lb of Maine Sweet Shrimp
4 Meyer lemons
1 lb Arborio rice
6 oz unsalted butter
3 oz diced onion
2 oz lemon juice (Meyer preferrably)
3-1/2 cups (or more) of vegetable stock
3 oz of Mascarpone cheese
Zest of 2 whole lemons
Chopped herbs: parsley, dill, chives
Process:
Wash the 4 Meyer Lemons, wrap them individually in tin foil and bake them in the oven at 350 degrees Farenheit until tender. Strain the whole lemons through a sieve and reserve the obtained puree
Dice the onion and sweat (stir until translucent ) in 1 oz of melted butter. Add the rice and cook (still stirring) for about 5  minutes
Add the lemon juice and reduce it. Add 2 ounces of the lemon puree and the vegetable stock 1 cup at the time (every time the rice has absorbed the liquid ). Cook on medium heat, stirring continually with a wooden spoon. You want your rice "al dente"
After using all the stock taste the rice, it should be ready or almost ( in this case add more liquid)
Stir in 1 lb of Maine Sweet Shrimp, the rest of the butter and Mascarpone
Season and add more lemon juice if needed
You want the risotto loose, so check the density before serving
Once the shrimp are cooked, add the lemon zests and the chopped herbs
Serve immediately
Bon Appetit!