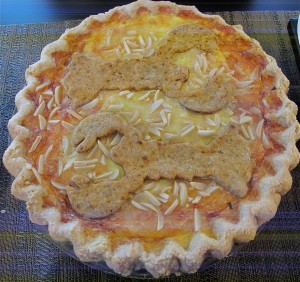 After sampling the Granite Inn's lobster pie (technically quiche) during Rockland, Maine's, annual Pies on Parade event, I managed to persuade Ed Hantz to share the recipe. "This is my adaptation of a recipe I found in an old cookbook," Hantz says. "I serve it fairly often, usually when there are enough people staying at the inn to warrant making more than one quiche, so that people have a choice. It's usually paired with a veggie quiche."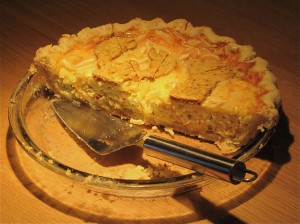 LOBSTER QUICHE
Makes 8 servings.
Crust
• 2 cups flour
• ½ tsp. salt
• 1 stick butter, cold
• 3 heaping tbsp. cold vegetable shortening
• 6 – 8 tbsp. ice water
• 1 tbsp. sugar
Place flour, sugar, salt, and butter cut into about 8 pieces in a food processer and process until the consistency of corn meal.
Add the shortening and two tbsp. water. Pulse a couple of times, then add two more tbsp. water. Keep this up until the dough begins to stick together. Don't over-process or the dough will become tough.
Remove from processor and form a ball. Flatten ball and refrigerate in a zip-type bag for a couple or hours or over night.
When ready to roll out, let dough warm up until pliable. Roll out on a well-floured surface to form a thick crust. You should have plenty of dough. Lay into a 9″ pie pan and trim to about an inch beyond the rim of the pan. Fold the edge of the crust up and inward and crimp with your fingers.I like to build the crust to about ½ inch above the edge of the pan. This makes an extra deep pie.
The dough trimmings can be collected, rolled out again, and cut with cookie cutters into shapes to decorate the top of the quiche.
Filling
• ¼ cup shallots, diced
• ½ slice 12-grain or other "nutty" bread
• Zest of one lemon
• 1 tbsp. fresh tarragon
• ½ tbsp. fresh dill
• 7-8 oz. cooked lobster meat
• 2 cups Gruyère or Jarlesberg cheese, shredded
• 4 large eggs
• 2 cups half-and-half
• 1 tsp. Dijon mustard
• dash mace
• salt and pepper to taste
• ½ cup almonds, slivered
Preheat oven to 400°.
Sauté the shallots until lightly browned, then place in the pie crust.
In a food processor, process the bread into fine crumbs. Add the lemon zest, tarragon, dill, and lobster and pulse two or three times to mix. Don't over-process.
Spread over the pie shell, and top with the cheese.
Whisk the eggs, half-and-half, mustard, mace, salt, and pepper until frothy. Pour into the pie shell, top with the almonds, and bake for 15 minutes.
Turn the oven down to 300° and bake for an additional 50 – 60 minutes or until center is firm.