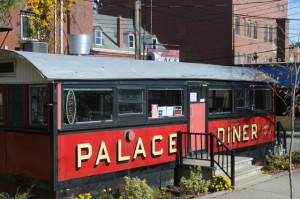 I mourned when I learned that the Capostoto family had sold Biddeford's Palace Diner, a classic 1926 Pollard towed to Maine, from Lowell, Mass., by horses in the same year that Lindberg flew over the Atlantic. Under their ownership, the 15-seat diner had been given a fresh & local twist, with healthful alternatives added to the usual diner fare.
At the same time, the new owners, chefs Chad Conley and Greg Mitchell, gave reason for optimism. Both have worked on organic farms in Maine, and Conley's impressive resume includes positions at lauded restaurants in Portland and New York.
The official opening is March 12. The duo plan to serve classic breakfasts and lunches Wednesday through Sunday, but adding a finer-dining service and fare on Friday and Saturday evenings.I'm not going to be able to get there for a while, but I'm eager to hear your reports.