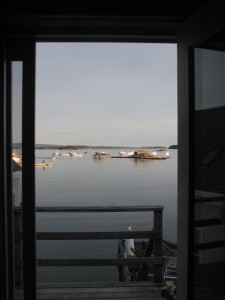 Now I'll be the first to admit that Stonington, at the tip of Maine's Blue Hill/Deer Isle peninsula, isn't the most happening town in February, but if you're looking for a romantic Valentine's Day weekend winter escape, you'll be hard pressed to find a better deal than that offered by the Inn on the Harbor.
The Almost Valentine's Day Weekend Lobster for Lovers package, offered Feb. 11-13, 2011, includes:
• two nights lodging
• daily continental breakfast,
•  a three-course Stonington lobster dinner for two on Sat., Feb. 12
All that, for rates beginning at $205 for two.
Stonington, of course, is on of Maine's traditional lobstering villages, and the inn hangs over the harbor, providing a front-row seat on all the action. For the best experience, splurge on one of the ocean-facing rooms, so you can watch the lobstermen returning with your dinner.